Windermere is the name of both a large lake and a nearby town in the north-west of England.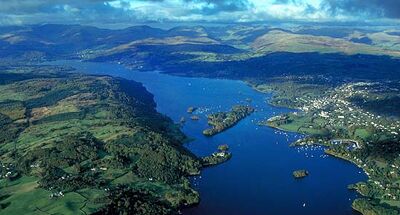 Lake Windermere
Edit
Lake Windermere is England's largest lake (10.5 miles long). Along with Coniston Water, it inspired the Lake in the North, in the Swallows and Amazons series. It has many islands, including Belle Isle (Long Island), Silver Holme (probably Cormorant Island) and Ramp Holme and Blakeholme, two of the probable models for Wild Cat Island.
From 1925 to 1935 the Ransomes lived in Low Ludderburn near Windermere.
Windermere town
Edit
Halfway down the lake, on the eastern shore is Bowness-on-Windermere, below the larger village of Windermere. Together, these were the models for Rio, which is described with lakeside and uphill sections.
other villages
Edit
At the northern end of Lake Windermere are the villages of Ambleside and Waterhead. Waterhead features as the site of a steamer pier in the Swallows and Amazons series, and Ambleside is a prototype of Head of the Lake, the village where the Ds buy a cook book in The Picts and the Martyrs.
At the southern end of the lake is Lakeside.
Community content is available under
CC-BY-SA
unless otherwise noted.