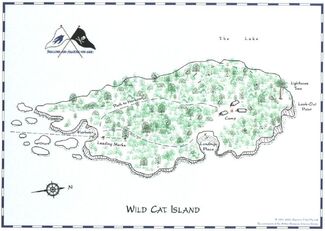 Wild Cat Island
is a small wooded island located in the south east of
The Lake
and somewhat separate from other islands. Its main features are: a tall pine, a clearing where tents can be pitched, a landing place (a small beach) and a
Secret Harbour
.
Nancy said "It is called Wild Cat Island. Uncle Jim called it that, because it belonged to us. That shows you whose island it is" (SA10).
In the winter, the island becomes Spitzbergen: Titty says '"It's Spitzbergen ... just for now, but you can see what a splendid place it is when it's Wild Cat Island" (WH13).
The island is called Yamaneko-jima in the Japanese translations. See also wikipedia:wildcat.
Native prototypes
Edit
Wild Cat Island appears to be a combination of several actual islands in both Coniston Water and Windermere. Peel Island is the location of the Secret Harbour and also has a small campground and rocky edges. Ransome wrote that he had taken features from Peel Island and Blakeholme on Windermere. He also suggested that Ramp Holme had contributed features to his composite island.
He wrote in his Autobiography of a trip with the Collingwood girls to: Peel Island, the island that had mattered so much to me as a small boy, was in the distant future to play its part in some of my books, and is still, in my old age, a crystallising point for happy memories.
Community content is available under
CC-BY-SA
unless otherwise noted.