Timothy Stedding

Name:

Squashy Hat

Squashy

Timothy Stedding

Suspicious Character (

PM

24)

Gender:

male

Birthday:

Height:

tall

Position:

Business partner and fellow mining prospector with

Jim Turner

Partner of

SADMC

Loyalty:

Jim Turner
SADMC


Native Residence: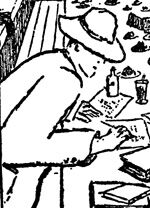 Timothy Stedding, first known as Squashy Hat in Pigeon Post, is a friend and mining colleague of James Turner. He is a tall, thin and shy man who habitually wears a squashy felt hat, which is brown, with grey baggy trousers and a grey flannel jacket (PP27).
Squashy Hat is reviled by the prospectors of SADMC as a rival prospector, but they do not understand that he is the missing Timothy. A telegram from Captain Flint at Pernambuco to the household at Beckfoot says This wild goose lays no eggs. Starting home. Be kind to Timothy, Give him the run of my room (PP2). The miners assume Timothy must be an Armadillo, and make him a hutch. Captain Flint finds the letter he intended to send home in his pocket while aboard ship (PP33).
Squashy Hat is first identified to the SADMC as Mr Stedding by Slater Bob in the conversation between Bob and the younger miners (PP25); their report of Bob's friendship with Squashy Hat leads Nancy to describe the pair as blood brothers (PP26). (His surname Stedding is also given in PM8 and PM25.)
Squashy Hat is viewed as sensible, responsible native even when still believed to be an enemy: "He's older than both of them [ that is, Nancy and John] put together, and he's a native too." (PP24). He has ...a voice that was somehow steadying (PP34). The steadying voice includes use of the unusual word norrard (which means 'northward'), a possible indication of a regional dialect.
Squashy Hat goes to Beckfoot, but is too shy to introduce himself when he sees all the children there: There were children popping up all over the place. It was like a school feast ... You wouldn't have gone in yourself ... How could I tell you hadn't bunged me into the middle of a holiday school? .... (PP35).
Timothy is decisive in an emergency, as during the fire (PP34) or when the Great Aunt goes missing (PM25). Nancy recalls when .... the shy Timothy had stopped being shy altogether and had taken charge and led the rescue party that had dashed across the smouldering heather (PM25).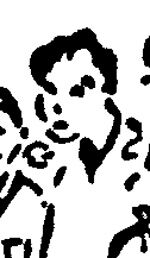 Timothy becomes a good friend and partner of the members of SADMC, particularly with Dick who likes "stinks", in The Picts and the Martyrs when they test samples of copper ore - and cope with the Great Aunt, who decides Timothy not Dick is the burglar of Beckfoot.
Native prototype
[
]
Timothy Stedding is based on Oscar Gnosspelius (to whom Pigeon Post is dedicated), husband of Barbara Collingwood, and therefore an uncle to the Altounyan children (NBUS pages 88,91).
AR noted in his diary for 1935: Gnossies to tea. Oscar full of help about the mining (17 February). Then Went up behind Tilberthwaite with Gnossie. Saw several old workings and a suitable bit of country for my story (27 March). In June Gnosspelius took AR to Swallow Scar near Wetherham: Very jolly up there above the screes and was shown how to pan for gold and to use a blowpipe (NBUS pages 88,90,91)
Slater Bob is based on John (Willie) Shaw, an old miner who had been working for Oscar Gnosspelius, first mining for copper from 1928 without any appreciable return, and from 1933 quarrying slate at Horse Crag, Tilberthwaite below Wetherham (NBUS page 88)