· · —
You are standing into danger. This article or section contains spoilers: do you want to go and read the book first?.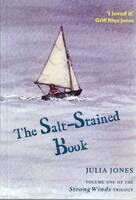 The Salt-Stained Book is the first book in Julia Jones's Strong Winds trilogy of children's books, and was published in June 2011. It is illustrterd by Claudia Myatt.
Source and dedication
[
]
Julia Jones has drawn on the Swallows and Amazons series of Arthur Ransome, in particular Swallows and Amazons, as well as the epic American poem The Song of Hiawatha by Henry Wadsworth Longfellow. The book is dedicated to Bertie, which is the name of one of the writer's sons.
Characters
[
]
Donny Walker (actual name John Walker)

Anna

Wendy, a vicar
Gerald, her husband
Boats etc
[
]
a plastic learner's dinghy, "like a margerine tub"

Lively Lady

, a Mirror Class dinghy (see Wikipedia: Mirror (dinghy))
Xanthe's and Maggi's Lasers

Strong Winds
Plot summary
[
]
Donny Walker has grown up in Leeds with his mother Skye, who is deaf, and his granny Edith Walker, who recently died of a stroke. While looking through his grandmother's belongings, a letter was discovered, addressed to Donny's Great Aunt Ellen Walker, who lives in China. Donny posts the letter, Ellen replies by telegram that she will return to England via Felixstowe and meet Donny and his mother at Shotley.
Donny and his mother set off for Shotley. On the journey they visit a town (Colchester) to buy a copy of Swallows and Amazons, a book Skye believes will "explain everything". While leaving a car park near the bookshop, they have a motor accident. Skye is arrested, assumed to be mentally ill and taken to hospital while Donny is fostered by Wendy, a vicar, and and Gerald, her husband, who live near Pin Mill. Arrangements are made to send him to a local school. On the first night at the foster home, Donny begins reading Swallows and Amazons and feels an instant deep understanding of sailing.
Later Donny watches children leaning to sail on a reservoir near Pin Mill. He realises that he can handle a sail and rescues a small boy who is having trouble with his boat.
Allusion
[
]
The book Swallows and Amazons threads through the plot of The Salt Stained Book almost like a character, rather like the Ring in The Lord of the Rings. There are numerous other references to events, characters and themes in the Swallows and Amazons series, and to Arthur Ransome's life, family and people connected with him:
There are also other literary allusions: to The Song of Hiawatha by Henry Wadsworth Longfellow (see Wikipedia: The Song of Hiawatha), and perhaps to the movie series Star Wars (Donny's mother Skye Walker, see Wikipedia: Star Wars).
Timeline
[
]
Notes
[
]
Native links
[
]