The Dog's Home is a small hut built of rough stones in the "steep woods" above Beckfoot, where The Ds live as Picts after leaving Beckfoot when the Great Aunt comes to stay, in The Picts and the Martyrs. It is up in the wood, just round the first bend, across the road; and across the beck, which is crossed by stepping stones (PM4).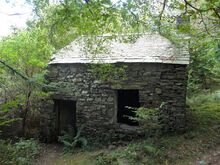 According to Nancy, Uncle Jim said that the woodcutters used it long before we (the Amazons) were born, and he used it when he was a little boy. Peggy says that we (the Amazons) used to go there when we were young, before we had "Amazon" and before we discovered Wild Cat Island. The huge wooden pegs, a yard or so apart on the two great beams, black with age were used for Hanging things on, guns perhaps as Uncle Jim says a gamekeeper lived here before the woodcutters (PM4).
Later The Ds discover that Jacky Warriner has been using it, and he tells them where to keep the milk cool (PM11).
It is based on a small stone hut built in the woods above Coniston Water close to Ransome's then residence in 1940, The Heald.
Roger Wardale wrote that there is such a hut by a path through Machell Coppice near The Heald, and has a photograph of the hut, which was inhabited in 1990 (NBUS page 174-176).