This article is about the TV show. See also: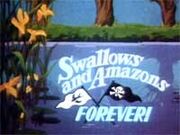 Swallows and Amazons Forever! is an adaptation of Arthur Ransome's books Coot Club and The Big Six made for television by the BBC in 1983 in association with Prime Time Television & Theatre Projects. It was dramatised by Michael Robson, set on the Norfolk Broads in the early 1930s.
There were eight episodes of about 30 minutes each, four each for Coot Club and The Big Six.
Critique
[
]
Overall a lavish and enjoyable watching. The title is baffling, since the Swallows and the Amazons do not appear. For some odd reason, the Ds travel with Mrs Barrable by horse-drawn cart from Wroxham to the Teasel, instead of by motor boat.
Cast
[
]
(* = name devised by the screenwriter, not Arthur Ransome)
The book
[
]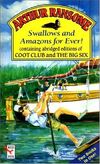 The TV series prompted Arthur Ransome's publishers to issue a book with almost the same title: Swallows and Amazons for Ever!.
External links
[
]