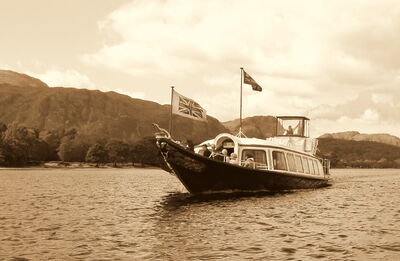 &nbsp
SY Gondola has been a major part of Coniston's history since 1859.
Built for the Furness railway she carried around 20-25,000 passengers a year before being laid up before WW1.
After the war she was sold to the McAdam family as a houseboat and became a static floating home at the south end of Coniston, near the outfall of the River Crake (the Amazon), and 1/2 mile north of Allan Tarn (Octopus Lagoon)
After she sank in a bad storm in the late sixties she lay on the lake bed rotting away, her windows smashed, fittings stolen and a shadow of the way AR would have remembered her.
In the late 1970's a team of National Trust volunteers started a fund raising campaign to raise the vessel and bring her back to steam on the lake once more...
...However, it was not to be- her hull (1/8" Wrought Iron plates) was massively corroded, and even if it had been in A1 condition would have been well below modern DOT standards.
After a long and successful fund raising campaign Vickers Shipbuilders, Barrow in Furness, were approched to build an accurate replica of the original in 1/4" steel plates. They readily undertook the project, using apprentices more familiar with nuclear submarines, to build the hull.
The hull was completed and cut into four parts to be transported to Coniston. The hull was faired and reassembled at Pier Cottage (the one time Northern jetty for Coniston bound Victorian passengers, home of Capt. Felix Hamell who served Gondola for 50 years, and later was Donald Campbell's base), later the shipyard's carpenters and shipwrights fitted her out in the style in which she was first built with plush carpeted 1st class saloon with varnished walnut trim, guilded corinthian columns and faux vaulted ceiling.
She now gives regular sailings on Coniston Water during the summer season to paying passengers.
See her National Trust website for more details; www.nationaltrust.org.uk/gondola