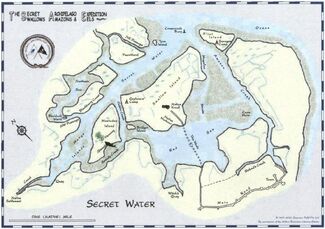 Sinbad's Creek is a small tidal creek in the Secret Archipelago which runs from the lane leading to the Wade eastward in to Amazon Creek. As the creek widens, it is deep enough to float a couple of boats, and Titty, Roger and Bridget Walker find a man painting tar on a boat there.
Native prototype?
[
]
Sinbad's Creek, running west-to-east, unlike the other landmarks in the Secret Archipelago, is not based on any actual native location, and does not appear on native maps. A possible south-to-north prototype exists, Coles Creek, which runs into the eastern Red Sea (native name The Twizzle).
Christina Hardyment describes Sinbad's Creek as author's licence, to improve the story (CFT12). Christina Hardyment's observation can be tested by a careful reading of the text: Although SW25 reads If only she had her compass to make sure of its direction when mapping the Creek, later Titty noticed two things. First, that those anchored boats in the distance were all pointing north... (SW25).
Titty assumed the anchored boats were in Amazon Creek, which had already been mapped (by Nancy and Peggy) running south-to-north, and Titty must have observed that Sinbad's Creek ran at right angles to the creek in which the boats were anchored. Titty would have observed the anchored boats' bows pointing one way during the ebb, then the opposite way as the tide began to rise. Titty had no compass, but had walked two sides of a square which Sinbad's and Amazon Creeks would complete. If the anchored boats initially pointed right, then switched to pointing to her left, she mapped the creek correctly, and Sinbad's Creek is not Coles Creek but a work of fiction.