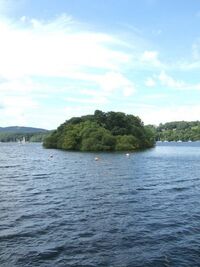 Ramp Holme is on Windermere, just south of the Hawkshead Ferry, close to Bowness (Rio). The name derives from the local name for wild garlic which grows on the island. Interestingly it also bears the name Roger Island. Although most Ransome devotees refer to Peel Island on Coniston Water as Wild Cat Island, Ramp Holme and Blakeholme (both on Windermere) are often proposed as alternatives.
In his Autobiography Ransome wrote that Peel Island's Secret Harbour had been put on another island on Windermere to make Wild Cat Island. Although he wrote elsewhere that the island was mostly Blakeholme (reference required!), he is supposed also to have told Dick Kelsall that the island was Ramp Holme, after he noticed the similarity between the picture 'Wild Cat Island from the South' and that island (another reference required!!).
It has been pointed out (here for example) that a comparison between Ransome's maps and maps of Windermere suggest the location of Ramp Holme compares well with that of Wild Cat Island.
Ramp Holme has a good campsite, a good landing place and a reasonably tall pine. The landing place is now quite overgrown, but in the 1980s the eastern shore offered two landing places, easily visible from the lake, and with a stony, but not rocky shore.
When Captain John Walker swam around the island in Swallows and Amazons, it was suggested that a swim to the eastern shore would be a much longer swim. This is not true of Ramp Holme, or of Peel Island or Blakeholme. Ramp Holme is much closer to the eastern shore of Windermere than the western one
There is no Secret Harbour (that is undoubtedly on Peel Island)
There is a general lack of cliffs and rocks!