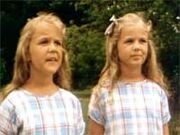 "Queer names for a couple of girls..." (Stationmaster at Wroxham railway station, CC1)
Nicknamed Port and Starboard, Bess Farland and Nell Farland are the twin daughters of lawyer Frank Farland, and crew his racing yacht Flash.
Nell/Starboard
Edit
Nell Farland is nicknamed Starboard due to her right-handedness (CC6). Starboard is the curlier-haired of the two, and perhaps inclined to be more forward, more bossy than Port; she tends to lead conversations with strangers and issue more orders. Starboard is treasurer of The Coot Club (CC10).
Bess/Port
Edit
Bess Farland, also called Bessie by her father, is nicknamed Port due to her left-handedness (CC6). She is the straighter-haired of the two. Port tends to hang back in conversations between the twins and others, especially strangers; she is more inclined to make observations about others' personalities or feelings. Port has a particular knack for speaking Ginty-language (broad Glasgow Scots):
"Dinna tell me ye've droon't the puir wee bairrns" (CC3)
Appearances
Edit
Port and Starboard are not identical: "You're not as like as some twins I've seen." (Mrs Whittle, CC21). We can conclude therefore that their conceptions resulted from two of Frank Farland's spermatazoa each impregnating one of a pair of the late Mrs Farland's ova (is that too much information for anyone?). Although Port and Starboard are so-named for their left and right handedness, and different handedness in twins used to be regarded as an indicator of monozygosity (identical-twinishness), this hypothesis has been debunked, see this article:
Community content is available under
CC-BY-SA
unless otherwise noted.