Mrs Barrable

Name:

Mrs Barrable
The Admiral

Gender:

female

Birthdate:

height:

Position:

Loyalty:

Native Residence:

Future career:

(Difficult to say: too old for fortunes-

CC

13)

Appearances: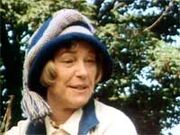 Mrs Barrable was Mrs Callum's school mistress long ago; she is a painter, and the sister of Richard, a "very famous portrait painter".
In Coot Club Mrs Barrable and her brother had hired the yacht Teasel for a cruise. Richard was unexpectedly called away to London to paint some important Indians, "Begums and Ranees" (CC1,5), so Mrs Barrable invites the Ds to stay on board for a houseboat holiday, which later becomes a cruise.
Mrs Barrable is named "Admiral" of the fleet, but sometimes when in charge of Teasel is rash (CC23,25). Richard writes to her at Ranworth from London, advising her against taking the Teasel down through Yarmouth with a "brace of brats who have never been in a boat before" (CC10). He was in the Royal Navy during the War; one of the few mentions of the Great War (WW1) in the books (CC24).
Mrs Barrable was born at Beccles (CC2), so is "almost a Norfolk Coot" (Starboard in CC7), though her matter-of-fact return to her birthplace rather disappoints Dorothea. Her brother Richard (and her?) went to school there; Richard took a grass snake to school once. She remembers the little alley where they used to slip down to the river, and that Ye Old Cake Shoppe wasn't ye old when she bought buns there (CC22).
She tells the Ds "what the Broads had been like in the wild old days of forty years ago" (CC9), and has far-off memories of when ...Breydon Water was gay with yachts and she was listening for the crack of the winning gun in the commodore's steam launch. She was seeing frilled parasols and rowing skiffs, and young women with little sailor hats, and spreading skirts and sleeves most strangely puffed above the elbows (CC25).
Mrs Barrable also appears in The Big Six, as she has taken a bungalow in the village where the Ds are staying, and is busy painting (BS1,9). Later she puts her foot down and says that ambushes are all right for boys but Dorothea is not allowed out after dark, and Dick has to be in by ten so cannot do another watch with the camera (BS27).
Mrs Callum writes to the Ds at The Dog's Home. She says that Mrs Barrable is at Horning, and that her brother will be there and sailing with her some time in September (PM14).
Mrs Barrable, walking home after a day's sketching (with William) appears in 'Coots in the North': her off-hand remark prompts the Death and Glories to stow away in the Bonnka; later she mediates with their parents to keep them out of hot water (CN pp 113,142).