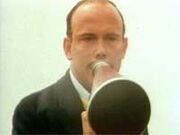 The Hullabaloos in Coot Club are the five hirers of the Margoletta, one of Rodley's motor cruisers, who become enemies of the Coot Club following Tom Dudgeon's casting off of their cruiser (CC3). There are three men and two women; described in (CC7):
Ronald; a big red-haired man. He is steering when they see the Teasel and hit the post in Breydon Water.
James; a thin man. Ronald bets James that they will catch "that boy".
the third un-named man is fat. He is slapped by 'Livy. (This character called Jerry in Swallows and Amazons Forever!.)
'Livy; one of the women, who is "not wearing skirts" (probably beach pyjamas).
the other woman is un-named. (This character called Maude in Swallows and Amazons Forever!.)
They wear gaudy clothes; white-topped yachting caps, shirts, berets and bright beach pyjamas (CC7,28,29). They are inconsiderate, ploughing through the racing yachts, and speeding so that they upset the Titmouse and Miss Millett's houseboat. And they are noisy; when moored over the dyke they have a wireless with a loud-speaker in one cabin and a gramophone in the other. PC Tedder says that they were keeping the hotel guests at Wroxham from getting their sleep. Later the huge gramophone (was) playing on the roof of the fore-cabin (CC7).
So, even if they had used her to make things uncomfortable for other people, upsetting old ladies in their houseboats, throwing dinghies against quays and tearing down the banks with their wash, even if they had carried their horrible hullabaloo into the quietest corner of the Broads, they were now shipwrecked sailors. They had lost their ship. And in a way, Tom felt it was his fault (CC29).
Their music includes a horrible song by The Hoodlum Band, with a treacly voice singing:
I want to be a darling, a doodle-um, a duckle-um,
I want to be a ducky, doodle darling, yes, I do.
The song is stopped by the water (coming) as high as the batteries and making a short circuit (CC28)
We now switch over .... The Hoodlum Band … Relayed from ... Blaaar. Tarratartara ... Tara ... Tara ... Blaaaaaar! and then silence.
This song (among other things) is discussed in this article by Peter Hunt. The Hoodlum Band and Other Stories is the title of an 1878 book by (Francis) Bret Harte (1836–1902), an American author and poet, best remembered for his accounts of pioneering life in California.
Other indications of their musical taste are:
A very loud loud-speaker was asking all the world never to leave him, always to love him, tinkle, tinkle, tinkle, bang, bang, bang, bang (CC5).
Some tremendous voice shouting a comic song along the quiet river (CC12).
In The Big Six, the Hullabaloos are mentioned as the Coot Club members are accused of casting off yachts, because of what I (Tom) had to do to those Hullabaloos at nesting time. (BS2).