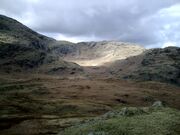 High Topps is a high, fell area, to the west of the Lake, above the upper reaches of the Valley of the Amazon, close to Kanchenjunga and its spurs, Grey Screes and Ling Scar. It is the main location for the action in Pigeon Post and also features in The Picts and the Martyrs.
It is a whacking big place full of old mine workings. Slater Bob tells them about ... names like we call 'em, Grey Cap and Slate Crop, and Brown's Dog, and Jimson's, and Giftie and the rest .... but I couldn't make nowt o' his numbers (on the young Government chap's map) .... there's many a score of those old workings on High Topps (PP3). It was amongst these workings that the prospectors found 'Golden Gulch'.
They .... came to the edge of High Topps. Green was showing here and there on the earth that had been blackened by the great fire. Then they crossed the blackened desert of High Topps to the mine that they had themselves discovered (PM24).
One end of the Old Level is on High Topps. This old mine passes right through Ling Scar to Slater Bob's Quarry.
The lower part above the Amazon River is called Greenbanks; see the map of The Lake:
Greenbanks ... we were up there yesterday. High Topps ends just about there (PP7)
.... looking back down the valley from half way up the steep slopes of Greenbanks, where the expedition had halted for a rest (PM24).
The Great Wall is a rock on the edge of the Topps from which Nancy checks for Squashy Hat: she was standing up, on the top of the rock, which, by this time, they had agreed to call The Great Wall (PP10). Beyond the hollow of the Gulch Roger could see far away to the edge of the Topps, and the Great Wall, and the uppermost branches of the Look-out Tree above the hidden camp (PP19). See image of the Great Wall: Great Wall
Below High Topps is the Heald Wood, and Atkinson's Farm and Tyson's Farm, all near the Dundale Road.
Native prototype
Edit
An area to the north of Coniston Water, called Yewdale Fell, near Tilberthwaite, bears a lot of similarities to High Topps, and Arthur Ransome visited the area as part of his research for writing Pigeon Post.
Community content is available under
CC-BY-SA
unless otherwise noted.