Jurassic World: Dominion Dominates Fandom Wikis - The Loop
Play Sound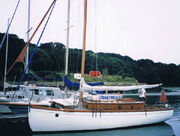 Goblin is closely based on Ransome's own yacht the Nancy Blackett. She is a small white Bermuda sloop rigged yacht with red sails and a Handy Billy auxiliary petrol engine.
Jim Brading owns her after winning a scholarship to Oxford; he used to sail in her with his Uncle Bob. He says that his furthest voyage in Goblin was when Uncle Bob and I took her down to Falmouth and back one year .... Uncle Bob is coming on Monday and we're going to have a try for Scotland (WD1). He's coming cruising next week (WD2).
When the Swallows went aboard her, John and Susan were to be first and second mate and Titty and Roger were to be able-seamen (WD3).
When Mary Walker and Frank the boatman see Emily, Mother asks if she is the (missing) Goblin, and then says Of course, she isn't the Goblin. She's a yawl, and the Goblin's a cutter (WD14). Dum sees her, and says There's a dark red Bermuda sail coming in from the sea .. (SW29).
Like the Nancy Blackett the Goblin has a Royal Cruising Club burgee (presumably Jim's uncle Bob was a member), although the Nancy Blackett's official number was 162814 not 16856 (NBUS page 107). When they see her first, she is described as a little white cutter (WD1). Goblin's tonnage is 4.86, carved on the main beam in the cabin (WD22).
Goblin's burgee (three-cornered flag at masthead) is bright blue and red and white (WD16)
The Imp is a tiny black pram dinghy towed by the Goblin. Is she the Imp because she's black? whispered Roger, or does he have her black because she's an Imp? (WD1).
Owner/master: Jim Brading Crew: Uncle Bob
Appearances
[
]