"Tommy Jolys!...Hunting me with horns. I shall have something to say to him. He was always a noisy and ill-behaved little boy." (Maria Turner, PM27)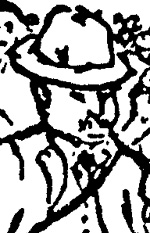 Colonel T E Jolys DSO
(
Tommy Jolys
) is a retired army officer,
organizer of the district firefighters, leader of men, hero of many wars
(
PM
29). He is a near-contemporary of
Maria Turner
, probably a few years younger than her. He is aged about 55, since he is described reverting to the
little boy of 50 years ago
, a reference to the
Tin Trumpet Incident
(
PM
29). Hence he would have served in the
First World War
rather than the
many wars
ie the little colonial wars of Arthur Ransome's childhood.
Appearances
Edit
lesser facts
Edit
His actual rank as given on the card is "Lt.-Col." or Lieutenant-Colonel.
He lives at the head of the lake, as Mrs Tyson says Before we'd get the word to the Colonel at head of the lake there'd be nowt left of our valley but ash and smoke (PP8).
He is a shortish, stout man but has a big, carrying voice. When he demonstrates a long blast on his coach-horn he blew ... on ... and on ... and on, and only gets very red though Dick thinks that He'll burst (PM26). Dot found it hard to see the stout, white-moustached, bald-headed Colonel as the noisy and ill-behaved little boy that the GA remembers (PM28).
Community content is available under
CC-BY-SA
unless otherwise noted.