Welcome to Arthur Ransome Wiki
The wiki dedicated to Arthur Ransome, his life, literary works and the Swallows and Amazons series of novels. This wiki, to which anyone can contribute, adopts an in-universe perspective when writing about Arthur Ransome's works of fiction. We aim to complement Wikipedia, with articles focussed on Arthur Ransome and his works rather than general (native) knowledge.
560 articles since July 2008

OldHarry
•
In 'The Big Six', the Death and Glories go to great trouble to smoke the eels given to them by Harry Bangate, but the results are poor -in fact inedible.  I think this is due to their use of pitch pine in the smoking process.  Apparently soft woods …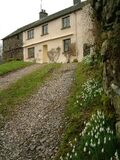 Crag Gill is a house on the western side of The Lake... ...more...
Previously featured: Pin Mill | Head of the Lake | Welcome | Harwich | Christina Hardyment | Horseshoe Cove | Nancy Blackett | Mr Tedder | Port and Starboard | Rio | Maria Turner | Secret Archipelago | Dick Callum | Rattletrap | Coniston Water | Christina Hardyment | The Arthur Ransome Society | High Topps | The Lake | Wild Cat Island | Birds | Goblin | Windermere | Kanchenjunga | The Houseboat | Colonel Jolys
Check out this month in Ransome history:
january | February | march | April | May | June | July | August | September | October | November | December
Contents
Helping out
Not sure where to start?
Adding content
The easiest way is to click on any

red text

you see in Arthur Ransome Wiki, that will take you to a blank page where you can start a new article with that name ("Red text" in this example).
Arthur Ransome Wiki also has two lists of articles that need help called "Ship's babies" and "Wanted Articles". Shiver my timbers! Don't be shy, get in there.
Uploading images is another really easy way to help out - see the Special:Upload page!