Jurassic World: Dominion Dominates Fandom Wikis - The Loop
Play Sound
This article will adopt a Ransome on Ransome perspective. Try Wikipedia for a good (native) article about Arthur Ransome written from a neutral point-of-view.
Arthur Mitchell Ransome (18 January 1884 – 3 June 1967), was a famous children's author and journalist.
His best known books are the Swallows and Amazons series of children's books. He also wrote Old Peter's Russian Tales, a collection of translated Russian folktales which has been perennially popular.
He, earlier, wrote books were about the literary life of London, Edgar Allen Poe and Oscar Wilde and later about the Russian Revolutions and its early years.
He also published books of his fishing columns from The Manchester Guardian newspaper for which he worked before settling down to become a full-time author.
Early Life
[
]
Arthur Ransome was born in Leeds on 18 January 1884. His Father, Cyril Ransome, was Professor of History at the Yorkshire College (later to be Leeds University) and his mother was Edith (nee Boulton). Her father, Edward Baker Boulton, spent much of his time in New South Wales, later providing something of the back story of Mrs. Walker in his famous Swallows and Amazons stories.
From their home in Headingley, the Ransomes would spend their holidays in the English Lake District, at Nibthwaite at the southern end of Coniston Water. They stayed with the Swainson family (the name later appeared in Swallowdale and The Picts and the Martyrs) and there they would explore the Old Man of Coniston, Peel Island and other lakeland places that later played their parts in the Swallows and Amazons books. There Ransome and his siblings had adventures that had their echoes in his most famous books: they met charcoal burners, landed in the secret harbour at Peel Island, caught a pike, wore out trousers on the knickerbockerbreaker, etc. In 1896 on one of these lakeland holidays Ransome first met W.G. Collingwood and his family. Collingwood was the author of Thorstein of the Mere, one of Ransome's favourite books from his boyhood. Some years later, in 1903, Ransome became re-acquainted with Collingwood and became close friends with the whole family, knowing Collingwood by his nickname 'The Skald', his wife as 'aunt', their daughters Barbara Collingwood, Dora Collingwood and Ursula Collingwood, and their son Robin Collingwood.
This was after Ransome finished his education. He had an unhappy time at the Old College in Windermere (despite it being in his beloved Lake country). While at this school that he saw Windermere during the Great Frost of 1895 - the inspiration for his novel Winter Holiday. Cyril Ransome died in 1897, the year Arthur left Old College and went to Rugby School. At Rugby, Arthur was 'fag' to R.H. Tawney, later to become a famous socialist economist and thinker. Also at Rugby Arthur met Ted Scott of the Manchester Guardian who was to be one of his best friends in later life.
From Rugby, Arthur went to the Yorkshire College in Leeds to study science (even though his real ambition was to be a writer) but he spent more of his time working on his writing and reading a great number of books and essays that had bore no relation to science whatsoever! It was not long before he moved to London to work in a number of publishing houses, and to began his career as a writer.
This section will detail the years before Ransome's 'escape' to Russia
Ransome in Russia
[
]
In 1913, Arthur left England and moved to Russia. One reason for choosing Russia was that it was one of the few places in Europe where someone required a passport to travel at that time (meaning it would be difficult for Ivy Walker to follow). Russia was also chosen because of its tradition of folk stories. Arthur wanted to research Russian folk stories and re-tell them for English children. The book of Russian stories that he published was called Old Peter's Russian Tales, and was one of his most enduringly popular books outside the Swallows and Amazons series. Some of his other stories were later published as The War of the Birds and the Beasts.
When the First World War broke out, Arthur's poor health and poor eye-sight meant he could not fight (unlike his brother Geoffrey) but his experience as a writer and good knowledge of the Russian language made him an ideal war correspondent. He wrote for the Daily News. Arthur grew very passionate about Russia and the Russian people and, when the first 1917 Revolution erupted, he was an enthusiastic supporter. Arthur's journalism and political writings from 1917 until he got back to different sorts of books in the 1920s has contributed to great speculation as to what his own politics were (e.g. here) and there was much speculation amongst the British and Russian authorities (not to mention the British newspapers 80 years later!) as to whether, following the Bolshevik Revolution and during the Russian Civil War and wars of intervention, Arthur was some sort of spy.
The truth seems to have been more complicated! Arthur became very close to some of the Bolsheviks (particularly Karl Radek whom he lived with for some time, and Trotsky's secretary Evgenia Shelepina, whom he married!) He also strongly believed that Britain should recognise the Bolshevik government. His close proximity to the Bolsheviks sometimes made him useful to the British authorities, and his closeness to members of the British mission (particularly Robert Bruce Lockhart) meant he was sometimes useful to the Russian authorities. For the most part this seems to have been in a transparent and open way - something of a go-between or honest broker. Ransome's time in Russia involved numerous exciting adventures (particularly his attempt to get in and out of the country across the front line in 1919). These adventures have been the subject of a BBC documentary (The Secret Life of Arthur Ransome) and a recent fictionalised account, by Marcus Sedgwick, Blood Red, Snow White.
From 1919, though Arthur made several more journeys to Russia, he and Evgenia Shelepina settled in Estonia. Living in the Baltic states, Arthur and Evgenia enjoyed sailing, first in a boat called Slug, next in Kittiwake, and then in Racundra. Arthur Ransome wrote about his sailing in Racundra's First Cruise.
Swallows and Amazons
[
]
When Arthur and Evgenia, now married, returned to England, Arthur worked at the Manchester Guardian, writing essays on a wide range of subjects (as well as continued work as a foreign correspondent). They moved to Low Ludderburn near Windermere in the Lake District. After a summer teaching the children of his old friend Dora Altounyan (neé Collingwood) how to sail in two small boats, Swallow and Mavis, he wrote Swallows and Amazons.
In the years that followed he completed eleven more stories in the Swallows and Amazons series. A thirteenth was never completed, although two nearly-complete sections with linking notes were published as Coots in the North by Hugh Brogan.
Ransome aimed to break new ground in his storytelling for children: ...concentrating the whole interest in one character, in the manner honoured by time and by almost all tellers of stories for boys, is easy, but it doesn't meet my views. I must have a combination of collective interest and a fair share of the game for all the individuals, girls and boys. ...essential to have one or more characters younger than the rest. Otherwise the whole lot are themselves too conscious of infancy in comparison with the other group of characters who are grown up. Shove in a brat and the rest gain independence at once. (AR to Charles and Margaret Renold, Dec 28 1933, SFM)
Later Life
[
]
In 1935 the Ransomes purchased Nancy Blackett, a seven-ton cutter. In 1938 they had Selina King built, sailing her in late 1938 and 1939. In 1945 his doctors told him not to sail Selina King. But years later Genia said that it had been a great mistake to part with the nicest boat we ever posessed .... Selina was designed for single-handed use and easy moving through the water; if we cut or permanently reefed her sail we should have managed her (LAR page 407 and NBUS pages 186, 253).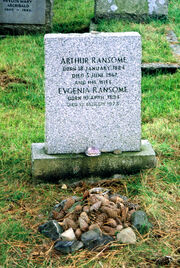 They commissioned Peter Duck in 1945, but were dissatisified with her; though the class became famous with over forty copies being made. In 1952 they commissioned the first Lottie Blossom but found her unsuitable and commissioned their last boat, the second Lottie Blossom which was sold in 1954 when Arthur gave up sailing. Brogan comments that the tragi-comic interplay of character and circumstance is illustrated by the story of Selina King and Peter Duck, suggesting that Arthur and Genia had become the worst enemies of their own happiness with the faults they found with both their boats and their houses or flats (Hugh Brogan pages 407-409).
Arthur received an honorary D.Litt from Leeds University in 1952; the other recipient was the painter and writer Wyndham Lewis. In 1948 he had been given an honorary degree from the University of Durham. He did not know until he was at the ceremony that it was to be an honorary MA, not being judged worthy of anything higher by the then Professor of English, one Abbott (though at the ceremony Edith Sitwell got an honorary doctorate). He accepted the Vice-Chancellor's apology, but told Cape not to mention the honorary MA in Who's Who or anywhere else (Brogan page 419).
He published his last book, Mainly About Fishing in 1959. He died in 1967, aged 83, and is buried in Rusland church, in the southern Lakes. Evgenia Shelepina, who died aged 80 in 1975, is buried beside him.
Discover more
[
]
Signalling From Mars: The Letters of Arthur Ransome
External links
[
]